Hero Familiy of Dental Vision & Orthodontics Practices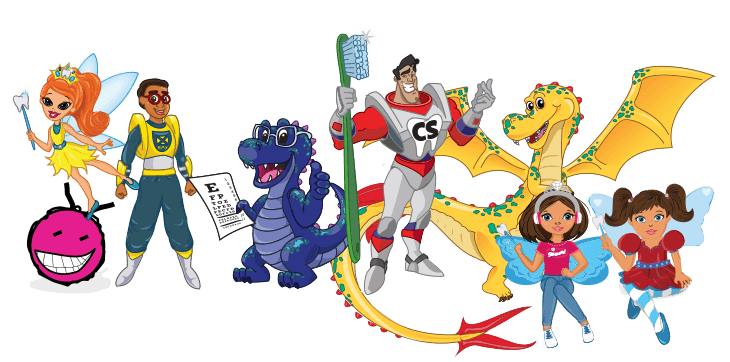 Finding answers to children's health can be hard,
so we made it easy for you!
Frequently asked questions about children's dental health ?
Here are some common questions
Can't find the answer you're looking for?
Give us a call (888) 570-6991
How do I prevent tooth decay?

Tooth decay can be prevented with a combination of healthy diet, proper daily teeth cleaning and regular dental hygiene visits. Establish a relationship with a dentist around your child's first birthday, so the dentist can monitor your child's dental health and help you prevent tooth decay. At home, be sure your child brushes after breakfast and before bedtime every day for at least two minutes. Limit your child's intake of sugary food and drinks, and starchy, refined carbohydrates.

Flossing is important when adjacent teeth are in contact. Bring your child to the dentist office for regular dental check-ups for fluoride treatments and dental sealants as an extra layer of protection.

What foods cause cavities?

Foods high in sugars and starches feed the plaque that can cause tooth decay. Sticky candies like lollipops, caramels and jelly beans are particularly harmful, but cookies, chips and other starches can be equally harmful because they break down into simple sugars. Carbonated and non-carbonated soft drinks and fruit juice contain lots of sugar and acids that can wear away tooth enamel.

Also, note, fruit and other foods can be healthy to eat, but also contains large amounts of natural sugar which can lead to dental cavities. Encourage your child to brush or wash their mouth out with water after consuming any of these foods.

What is a dental sealant and who should get it?

A dental sealant is a thin, plastic coating applied to teeth with ridges and grooves, typically the molar teeth. Bacteria and bits of food can collect in the pits and cracks—or fissures—in the teeth. These are areas where toothbrush bristles can't reach. A sealant helps protect the chewing surfaces of adult molars against decay.

Sealants are recommended for children with high risk of decay as soon as adult molars come in, or "erupt." Sealants are typically placed on the six-year and twelve-year molars. Dental sealants can partially wear off or come away over time, so it is important to keep up with regular dental visits so that the dentist can monitor wear and reapply as necessary.

Sealants are recommended by dentists because they are extremely effective. In fact, the CDC recently found that sealants prevent 80 percent of cavities in molars. Many cavities occur in molars, so protecting those teeth is critical.

Why should I fill cavities on baby teeth?

There are two reasons why restoring cavities on baby teeth is important.

(1) Untreated decay in a single tooth can harbor bacteria which can affect nearby teeth and, if left untreated, may affect the permanent tooth developing beneath the baby tooth. This can lead to pain, infection, tooth loss and gum disease and other serious health conditions.

(2) In addition, baby teeth fulfill very important growth functions for kids. They help children develop proper chewing habits, speech and, most importantly, they hold the space for developing adult teeth. If kids lose baby teeth prematurely due to cavities, this may impact the ability of the adult teeth to come in ("erupt") and create a future complications with tooth alignment and function – potentially requiring orthodontic care to correct.

How safe are dental X-rays?

Dental x-rays are among the safest medical x-rays to receive. In fact, children are exposed to more radiation just walking outside in the sun than from an x-ray administered in a dentist's office. Advances in dental x-ray technology have made the beams from x-rays extremely focused, limiting nearly all scatter radiation. In our practice, we use state of the art equipment designed for the safety of all of our patients. Talk to your dentist about any concerns you may have.

Are thumb-sucking and/or pacifiers harmful for a child's teeth?

They can be. Vigorous thumb-sucking, extensive pacifier use and prolonged use of baby bottles can negatively impact teeth alignment and the healthy growth of a child's mouth. Talk to your dentist for tips on how to encourage your child to kick the sucking habit.

What should I use to clean my baby's gums and prepare for teeth?

Toothpaste: When should we begin using it and how much should we use?

Toothpaste can be used from the appearance of your baby's first tooth. Choose a toothpaste specifically formulated for the age of your child. Child appropriate dental hygiene products (toothpaste, mouth rinse) have lower fluoride levels and come in flavors that kids enjoy. At the beginning, use no more than the length of a grain of rice because babies don't know how to expectorate on demand. You can work up to a pea-sized portion as your toddler grows.

How often does my child need to see the dentist?

What does fluoride do for my child's teeth?

Fluoride is a mineral that strengthens the enamel covering your teeth. Enamel is the white part of your teeth and the strongest material in the human body. Each day, the enamel goes through a process of demineralization, as acid-creating bacteria eat away at the surface of the teeth and fluoride helps rebuild the tooth's protective mineral layer.

Tap water and tooth paste may serve as sources of fluoride for children to facilitate remineralization. In addition, we recommend fluoride treatments to help strengthen the enamel of both primary and permanent teeth. Our dentists will evaluate your child and may recommend fluoride varnish during a hygiene visit to coat your child's teeth with a dose of concentrated fluoride. The purpose of this fluoride application is to help protect and re-mineralize areas of a tooth that may be at risk of developing decay.

Learn more about the importance of fluoride for preventing tooth decay


Why is my child being recommended for general anesthesia?

General anesthesia for dentistry is necessary when a child will not be able to cooperate for an extensive dental procedures. General anesthesia is a controlled state of unconsciousness that permits a child to have all of their dental treatment completed in one visit with no recollection of the procedure. Select practices offer general anesthesia performed on location by a licensed anesthesiologist.

We are committed to helping families establish lifelong dental health, and we want children to have positive experiences with the dentist at early ages so kids can have optimal dental health as they grow into adulthood. That is why our dentists work with parents to find the dental sedation options that will best meet their child's dental and developmental needs.

When to use local anesthesia for children?

The best choice of dental sedation or anesthesia for kids depends on several factors including the child's age, temperament, and the amount of treatment required. Local anesthetics like lidocaine can be applied topically or injected into the gums to numb an area of the mouth.

Under the influence of local anesthetic, the area of the mouth anesthetized will not experience any sensation of pain. With use of local anesthetics, the patient is fully conscious and although, the child should not feel pain, they may still experience an element of anxiety associated with the operative

Learn more about the full spectrum of dental sedation for children

When should I take my child to the dentist for the first check-up?

What dental care is covered by Medicaid?

Medicaid generally covers all needed preventive and operative dental care for children from six months to 20 years of age.

This includes twice annual dental cleanings, exams and x-rays plus fluoride treatments and sealants, fillings, crowns, spacers and other treatment that may be required to maintain or restore dental health.

What should I do if my child has a toothache?

A toothache can stem from a number of factors. Often, the toothache is caused by a cavity or an injury to the tooth – both situations may require dental treatment.

If your child has a toothache or trauma (injury) to a tooth, please contact your dentist as soon as possible so your child can be evaluated and proper steps can be taken to address your child's specific dental needs.

#}
High Quality, Compassionate Care
It's what we do best!
It's our mission to ensure that every child and family has access to affordable high-quality, compassionate care. Our kid-friendly offices, high-quality staff, flexible scheduling, and a variety of insurance options make us the perfect fit for your family.
Learn about our Dental Services
Learn about our Orthodontic Services