Hero Familiy of Dental Vision & Orthodontics Practices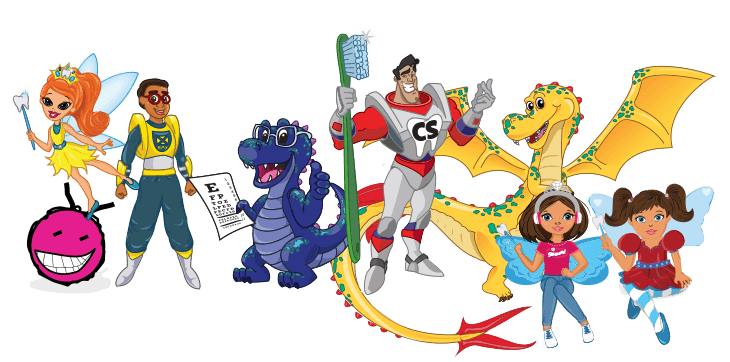 Finding answers to children's health can be hard,

so we made it easy for you!
Frequently asked questions about children's vision?
Can't find the answer you're looking for?
Give us a call (888) 570-6991
Are eyeglasses covered by Medicaid?

Yes, children's glasses are fully covered by Medicaid. We carry over 350 Medicaid-approved frames, so you can get your child the perfect pair of glasses for little or no cost to you.


If my child passed a vision screening at school does she still need an eye exam?

Yes, she still needs a comprehensive eye exam from an optometrist with the training and equipment to detect the full range of potential childhood vision issues. Vision screenings at school typically only test for nearsightedness and are not capable of identifying more serious eye conditions. One in four children may have a vision issue that could impair development and success at school. All children should undergo eye exams every one to two years started from the time they reach six months.

Learn more about the importance of regular eye exams for children

What do I do if my child gets something in their eye?

Foreign bodies on the surface of the eye should be treated with great care. Do not try to remove except by flushing with water or saline solution for risk of scratching the surface of the eye. Position your child's head over the sink and gently pour lukewarm water over the affected eye for up to 15 minutes. If an object is embedded in the eye, seek emergency medical support.

What is nearsightedness?

Nearsightedness, or myopia, is a refractive disorder that impacts the eye's ability to focus on objects that are far away. An eye affected with nearsightedness is either too long or the cornea is too steep, which means that light rays will focus in front of the retina instead of directly on it. Being nearsighted, therefore, means that close objects are in focus while distant ones are not.

Learn more:

Common childhood eye problems
How to know if your child needs glasses

What is farsightedness?

Farsighted vision, hyperopia, is disorder that impacts the eye's ability to use refracted light to focus on objects that are close up. An eye affected with farsightedness is either too short or the cornea is too flat, which means that light rays will focus behind the retina instead of directly on it. With hyperopia, therefore, distant objects are clear while close ones are out of focus. Farsightedness in kids can be difficult to diagnose because farsightedness impacts people differently. For some, it may only become apparent when they are trying to read. For others, all objects near and far might appear blurry.

What to do for a black eye?

If you child has received minor eye trauma from a fall, sporting accident or other cause, apply a cold compress for five to 10 minutes several times an hour. Do not put ice directly on the skin, instead wrap with a towel or sock. If pain ensues, give a proper dose of acetaminophen. Call your doctor if your child experiences any changes in vision, visible abnormalities to the eyeball, or drainage from the eye.

What if my child loses or breaks his glasses?

We can usually repair or replace broken frames within five days, but it is always good to have a backup pair available if something should occur to your child's primary pair of glasses. Medicaid covers the full cost of replacement glasses for children, so there is always a way to get another pair of frames.

Learn more about:

What is astigmatism?

Astigmatism is a common refractive disorder that affects either the shape of the cornea or the shape of the lens. For both near and far objects, vision can be blurred because the affected eye cannot focus. Astigmatism can coexist with both nearsightedness and farsightedness and should be corrected as soon as it is diagnosed. Astigmatism in kids can be difficult to diagnose because children with astigmatism sometimes don't recognize the blurriness they see as a condition worth reporting. Comprehensive eye exams are necessary for a correct diagnosis and to rule out other eye concerns.

Learn more:

Common childhood vision problems
How to know if you child needs glasses

How can I get my toddler to keep her glasses on?

Trying to ensure that young children stick to their vision treatment plan can be very tricky. First make sure their glasses fit perfectly. If the glasses aren't comfortable, the child will naturally want to take them off. Use elastic straps to help keep the glasses in place. Next, try to make wearing glasses fun—find a favorite cartoon character with glasses like SpongeBob or the Minions, and fit some glasses on the child's dolls. Reward and praise your child for wearing their glasses a little longer each day, and be a role model by wearing glasses yourself. Here are some more tips on how to get your child to wear their glasses.
#}
High Quality, Compassionate Care for Kids
It's What We Do Best!
It's our mission to ensure that every child and family has access to affordable high-quality, compassionate care. Our kid-friendly offices, high-quality staff, flexible scheduling, and a variety of insurance options make us the perfect fit for your family.
Learn about our Vision Services