When and How Often Should Kids Go to the Dentist?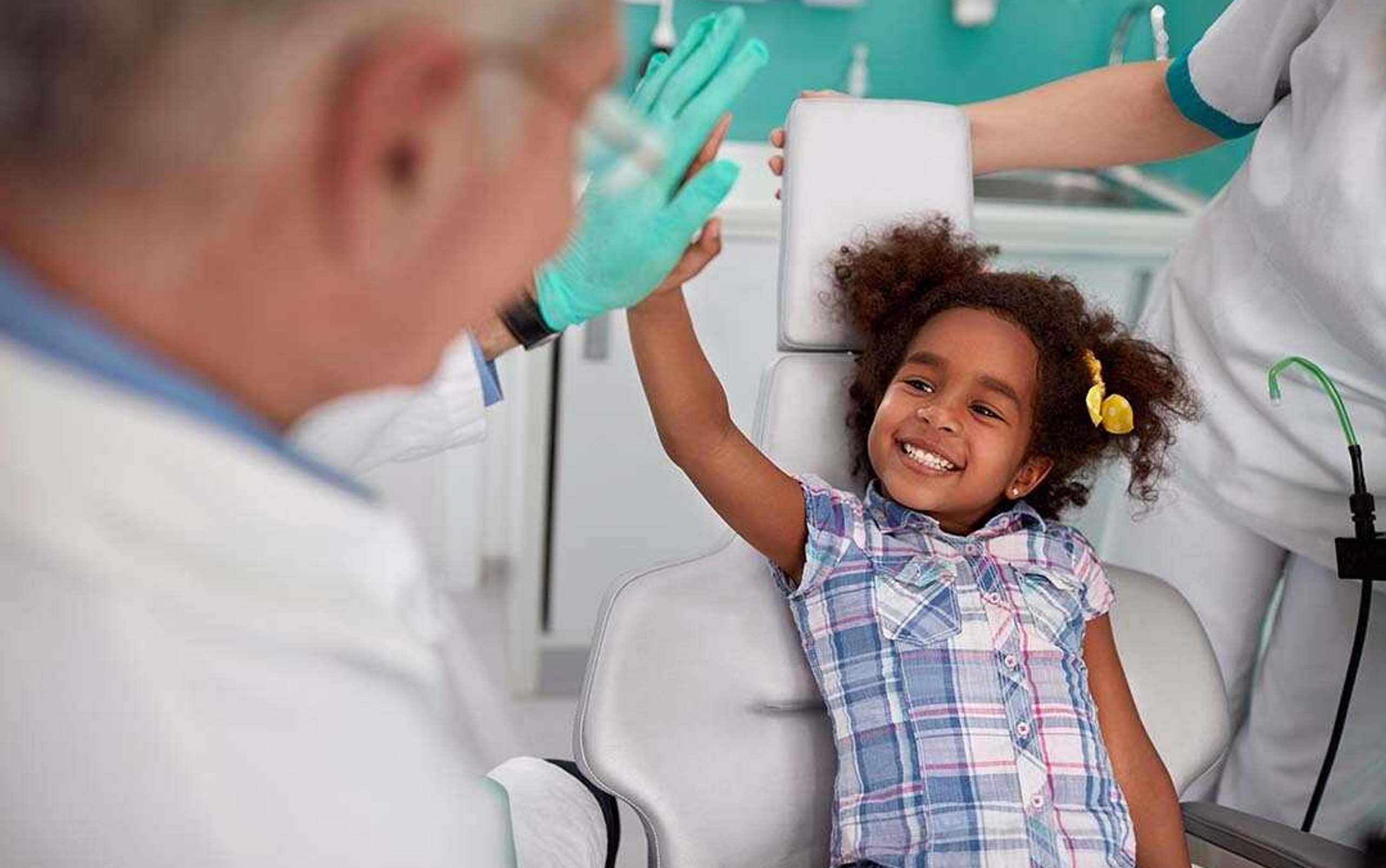 For many parents, it can be difficult to know how much dental care a child needs. As children grow, parents usually have lots of questions like, "When should kids go to the dentist?" and "How often should kids see the dentist?"
How often should kids see the dentist?
The American Academy of Pediatric Dentists recommends that children see the dentist every six months starting when their first tooth comes up or by their first birthday, whichever comes first. Although every six months is the dental visit frequency that works best for most children, your child's dentist can make personalized recommendations for visit frequency based on your child's oral health. As teeth grow and move inside your child's mouth, your child may have specific oral care needs.
When to Take Your Kids to the Dentist
The First Dentist Visit
The first dentist visit is an important introduction to a lifetime of healthy oral care habits. At the first dentist visit, your child can get to know the office, staff, and dentist and your family can learn about healthy oral care habits. To learn more about the exciting and fun first dental visit, read this blog.
Every Six Months
It is important that your child visits the dentist every six months for a checkup. Many parents ask if biannual checkups are necessary if their child's teeth are healthy, and the answer is yes! The conditions of your child's oral health can change quickly, and even minor diet or habit changes can have an impact on oral health.
Biannual visits allow the dental practice and your child to get to know one another. Building this relationship is helpful for encouraging healthy oral care. At the regular visits, the dentist will monitor developments in your child's mouth, evaluate changes, and provide recommendations for oral care techniques that are appropriate for the needs of your child. The dentist will maintain records of your child's ongoing dental health care and jaw development. This helps the dentist understand your child's dental health history so that they can more easily anticipate future problems and implement preventive care before they arise.
The regular visits include thorough dental cleanings and age-appropriate treatments to increase tooth health such as fluoride supplement or sealants. Oftentimes, a fluoride gel is applied to teeth after the cleaning to remineralize the teeth and protect the enamel from acid. In areas where the community water supply does not contain fluoride, dentists may give children fluoride supplements to take at home. A dental sealant is a plastic resin that is commonly applied to molars to protect the teeth from bacteria that can cause cavities. When needed, the dentist may make recommendations to adjust dietary or oral behaviors to better support healthy oral development. These recommendations may include changing from sippy cups to open drinking glasses or reducing sugar intake.
The biannual visits may also include dental x-rays if the dentist needs to explore the possibility of cavities or other orthodontic irregularities. The only way to identify cavities in primary teeth is to use a dental x-ray. Cavities in baby teeth may not cause your child pain, but if left untreated, they can develop into large cavities, tooth decay, and periodontal disease.
Additional Visits
Your child's dentist can tell you if any additional visits are needed. If the dentist notices that your child is prone to tooth decay or shows early signs of orthodontic problems, the dentist may schedule visits in addition to the regular, biannual checkups.
The dentist is also available for emergency treatment. If a dental emergency occurs, it is helpful and comforting to receive treatment at a familiar location.
Benefits of Regular Dentist Visits for Kids
Regular dentist visits have many benefits. Regular, biannual dental visits help your child stay cavity-free. The checkups also allow children and families to receive continued support and care. The dentist can monitor oral developments, evaluate teeth and gum changes, and support the family in maintaining healthy oral care habits. With regular visits twice per year, your child can avoid most major dental issues by catching any that arise early on. Most major pediatric dental issues are avoidable if treated early, and regular checkups can help your child avoid unnecessary pain by establishing good routines.
Book an Appointment with Us
Every child deserves access to exceptional dental care. We are leaders in providing high-quality and compassionate dental, vision, and orthodontic services to underserved children. Our dedicated providers are general dentists who treat pediatric patients. Our kid-friendly offices, high-quality staff, flexible scheduling, and a variety of insurance options make us the perfect fit for your family.
For your child's first dental visit, book an appointment at a convenient location near you.
California
Kids & Teen Dental Place - Glendale, Huntington Park, Los Angeles, Van Nuys
Colorado
Adventure - Aurora, Denver, Commerce City, Greeley, Lakewood, Longmont
Academy Kids - Colorado Springs, Pueblo