Dental Hygiene for Kids: 7 Tips For Children's Dental Health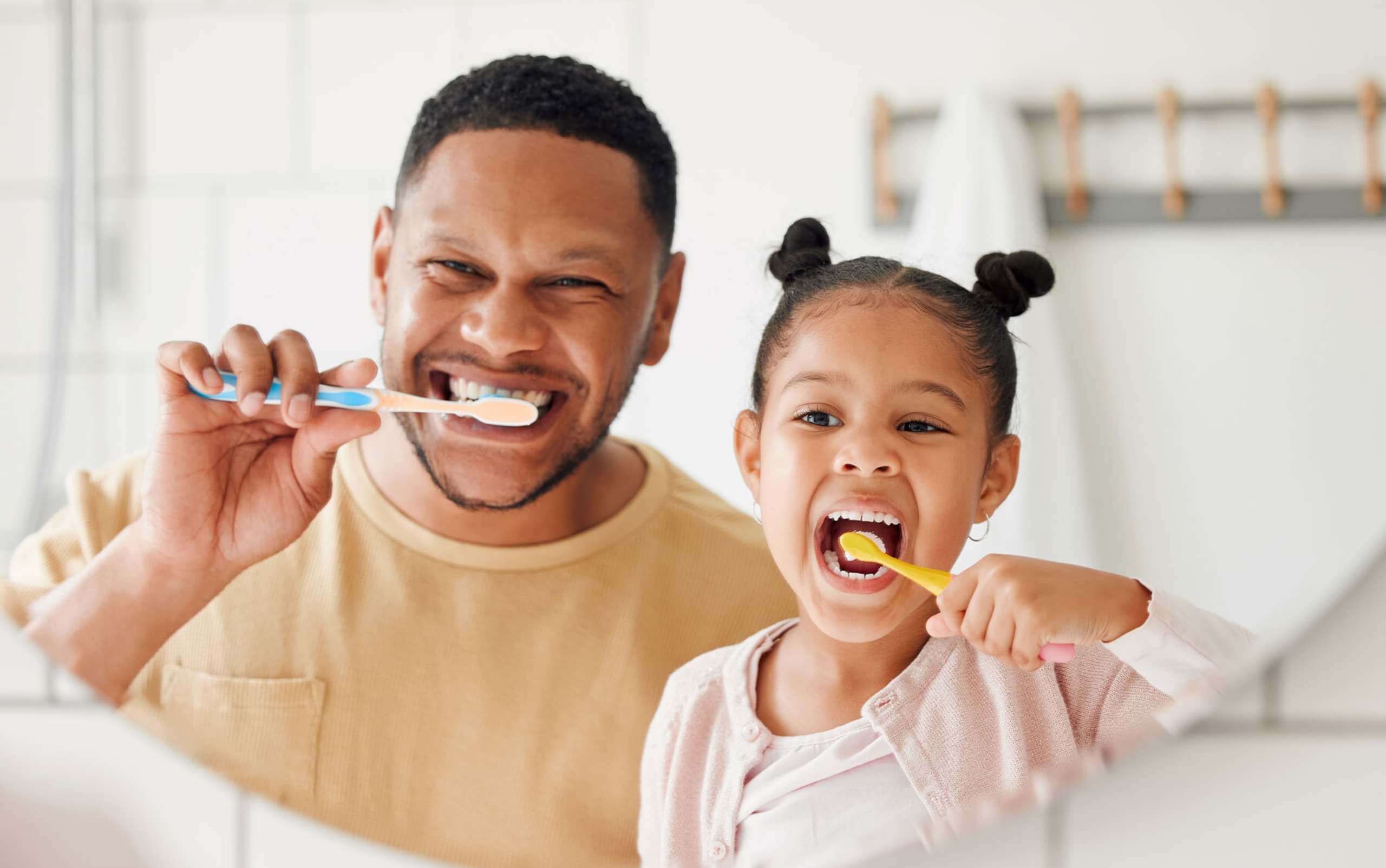 Kids need healthy teeth to eat, talk, succeed in school, and grow into happy adults. Poor oral care can lead to infection, disease, and other health problems. Good oral care helps kids stay healthy and create strong dental habits that can last a lifetime.
How do parents make sure their kids have good dental hygiene? It is important that every kid regularly visits the dentist. There are many ways to care for kids' dental health and make dental hygiene fun!
When should my child first see a dentist?
The American Academy of Pediatric Dentists recommends that children visit the dentist when their first tooth appears or by their first birthday, whichever comes first. Your child can see either a general dentist who treats pediatric patients or a pediatric dentist. General dentists who treat pediatric patients sometimes call themselves "kids' dentists" or "family dentists."
At your child's first dental visit, the dentist will look at their mouth to make sure their teeth are developing correctly. The dentist will interact with your child to help them feel comfortable, and the dentist will talk with you about proper oral care. The first dental visit is a great opportunity for you to ask any questions you may have.
Everyone needs to go to the dentist for a checkup and cleaning twice per year. Starting regular dental visits at a young age prepares kids for a lifetime of healthy oral habits.
How can I make dental hygiene fun for my kids?
Everyone knows kids love to have fun, but not everyone knows that kids can have fun with dental hygiene. In fact, there are many ways to make dental hygiene fun for your kids. Take a look at the following suggestions, and feel free to get creative!

Read books and watch videos that talk about dental hygiene for kids. These are great tools for helping kids understand dental hygiene through a fun story or the perspective of their favorite character.

Let your child help choose their ADA-approved toothpaste. Great pediatric toothpastes are available in a variety of flavors, and your kid can pick their favorite one.

Let your child help choose their age-appropriate toothbrush with either soft or extra soft bristles. They can choose a toothbrush in their favorite color or decorated with their favorite character.

To help kids brush their teeth for a full 2 minutes, play a game, sing a song, or set a timer to keep track of time. There are also apps that can help make teeth brushing fun for kids.

Give your child a reward for good dental care. While sugary treats and beverages need to be avoided, things like gold star stickers, a new book, or a small toy can work great!

Plan a special activity to do after visits to the dentist. The special activity could be a trip to a playground, a visit to a library, or anything else that is extra fun for your kid.

Set a good example! Kids aren't the only ones who get to have fun. Parents can have fun with dental hygiene too. If you enjoy cleaning your teeth, your kid will likely model your behavior.

Your kid is a fun expert and probably has a few ideas for unique ways to make dental hygiene exciting. Get creative and collaborate with your kid to invent a fun way to keep their mouth healthy.
7 Tips for Caring For Children's Dental Health
Brush and Floss
It is very important to brush your child's teeth at least twice per day and floss your child's teeth at least once per day. Before your baby has teeth, you can clean their mouth every day by gently wiping a soft, damp washcloth over their gums to clean away harmful bacteria after every feeding. Start brushing your child's teeth when the first tooth appears. Your child's dentist can recommend age-appropriate toothpaste, toothbrush, and floss. The dentist can also teach you the right way to brush and floss your child's teeth. While it is great to get kids involved in daily dental hygiene, your child will likely need help brushing their teeth until they are 7 or 8 years old. Flossing is very important because bacteria that causes cavities can hide between teeth where the toothbrush can't reach.
Use Fluoride
Fluoride is a naturally occurring mineral that is commonly found in tap water. Fluoride is important to children's dental health because it helps keep teeth strong and protected. You can brush your child's teeth with toothpaste that contains fluoride, and children can get special fluoride treatments at their regular dentist visits. To find out the best way to protect your kid's teeth with fluoride, talk with your dentist. Your dentist can recommend age-appropriate toothpaste that contains the right amount of fluoride for your child. Dentists can also give you information about the fluoride levels in local tap water.
Prevent Cavities
Cavities are decayed areas of the teeth. A cavity can form when a buildup of plaque eats at the tooth enamel, creating a hole in the tooth. Proper dental hygiene, a healthy diet, and routine dental checkups are the best ways to prevent cavities.
Have a Healthy Diet
Kids who have lots of sugary foods and drinks are at a high risk for tooth decay and cavities. It is important for kids to have healthy diets. Enjoy well-balanced meals, refreshing water, and healthy snacks. Calcium-rich foods like cheese and low-sugar yogurts are great healthy treats that also give teeth important nutrients to stay strong. Avoid sugary foods, soda, and fruit juices as much as possible. If your child does have something sugary to eat or drink, make sure to brush and floss their teeth immediately afterward.
Keep Mouths Safe
An important part of dental health is keeping mouths safe. If your child plays sports, they need to wear a mouth guard to protect their teeth from injuries. Mouthguards are soft, plastic retainers that cover the teeth and lips. Talk to your dentist to learn more and find a mouth guard that properly fits your child.
What to Know about Sucking Habits
It is normal for babies to suck pacifiers or their thumbs. Most children who suck on their thumb or a pacifier give up this habit on their own by age 4. Sucking habits that last for a long time can cause problems with teeth alignment. If your child has a sucking habit, talk to your dentist so they can watch for potential problems as your child's teeth develop.
Care for Baby and Adult Teeth
For most kids, baby teeth start to appear between 4 to 7 months of age. By 3 years old, most kids have all of their teeth, a total of 20! Between ages 6-12, children lose their baby teeth. During this time, your child will have a mix of baby and adult teeth. The transition from baby to adult teeth is an important time to talk to your dentist about possible teeth problems and orthodontic treatments.
Where to Take Your Child for Great Dental Care
We are leaders in providing high-quality and compassionate dental, orthodontic, and vision services. Help your kids thrive with regular dental checkups. Visit our Dental Services page to learn more about dental care for children, and book an appointment at a convenient location near you.
California
Kids & Teen Dental Place - Glendale, Huntington Park, Los Angeles, Van Nuys
Colorado
Adventure - Aurora, Denver, Commerce City, Greeley, Lakewood, Longmont
Academy Kids - Colorado Springs, Pueblo
Kansas
Adventure - Kansas City, Topeka, Wichita
Maryland
Adventure - Baltimore, Essex, Landover Hills
New Mexico
Adventure - Albuquerque, Santa Fe
Oklahoma
Adventure - Midwest City
Pediatric Dental Group - Tulsa
Washington DC
Adventure - DC, Landover Hills